NEWS ROOM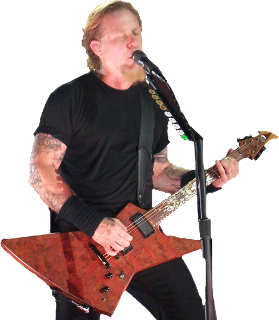 The News Room section of IPOM is where you will find the latest news about the band and the members themselves. We work very hard to bring you the all news as it happens, so please give credit if you use these stories. All news stories prior to this month can be found via the News Search. If you have questions, comments, or news stories, send them in.
09/03/14 Metallica in Guinness Book of World Records
[link]
Metallica has achieved a world record for being the only band to play all seven continents in one year! The record will appear in the 2015 edition of the book. Check the
Metallica.com story
for details and pictures!
08/25/14 Music Agents Against NFL's Pay-To-Play Half-Time Plan
[link]
The NFL is reportedly asking artists to submit bids to pay to appear at Half Time at next year's Super Bowl. Various sources predict major artists won't go for it. Dennis Arfa (manager agent for Metallica, Billy Joel, and Rush) said "If I was a young band, and I had a billionaire backer, I'd buy my way to the Super Bowl - everybody would know me after the Super Bowl. Is Paul McCartney going to pay? I doubt it." Read more at
Rolling Stone
.
08/25/14 Hetfield's Black Pearl Featured at Wheels of Time
[link]
This past weekend was the 36th annual
Wheels of Time Rod and Custom Jamboree in Lehigh Valley
. The event features an estimated 1500 street rods and custom cars. This year's special guest was Rick Dore the man behind Hetfield's
Black Pearl
who brought said creation with him. The vehicle won every category in its class at the 2014 Grand National Roadster Show.
08/25/14 Trujillo Joins Rodrigo Y Gabriela On Stage
[link]
Trujillo once again joined Rodrigo Y Gabriela on stage - this time on August 17th at the Red Rocks Amphitheater in Morrison, CO. to perform a medley of Metallica covers. You can check out fan-filmed footage:
part 1
and
part 2
.
Thanks to
Blabbermouth
.
08/25/14 Two Classic Rock Roll of Honour Nominations
[link]
The Classic Rock Roll Of Honour is one of music's most prestigious events in the UK and is coming state-side this year for its 10th anniversary. Taking place at The Avalon in Hollywood, CA, it will features Sammy Hagar as the master of ceremonies. Metallica has been nominated for
Band of the Year
and
Film of the Year
. Fans can vote and see all of the nominations at
ClassicRockMagazine.com/Awards
.
08/25/14 Hammett and Randall Make New HK103 Amp
[link]
Kirk Hammett has worked with Randall for years making a variety of signature series (KH120RHS head, KH412 cab, KH75 combo, KH15 practice amp, KH3 preamp), and are now coming out with the KH103 amp. After 3 years of meticulous prototyping and being on the road with Hammett for battle-testing, it is definitely worth of carrying the Hammett name. The 120-watt three-channel all-tube amp has the sound Hammett has "been chasing for a long time." It will be released this fall with a $3,749.99 price tag. You can find more info at
Guitar World
.
08/25/14 Lloyd Grant Plays Lights and Seek
[link]
Lloyd Grant who performed on the original Metallica demos took the stage with Night Demon on August 4th in Los Angeles to perform
Hit The Lights
and
Seek And Destroy
. Check out video
here
.
Thanks to
Blabbermouth
.
08/25/14 Fear FestEvil After Party: Hammett and Trujillo Videos
[link]
Video from various Kirk and Rob appearances at the Fear FestEvil After Party at Comic-Con can be seen here:
Thanks to
Blabbermouth
.
07/31/14 Metallica Wants Your Puppets Stories
[link]
Metallica has teamed up with Matt Taylor - author of the much respected account of Steven Spielberg's escapades as he was making
Jaws
- on a book detailing the story of
Master of Puppets
and the tour that followed. In addition to all of the interviews Matt has done with the band and crew and friends, they're looking for stuff from fans: old pictures, stories of meeting the band, etc. They stress they want
anything
: " No photographs, anecdotes, or stories are too insignificant." See the details for submission at
Metallica.com
.
07/30/14 Kirk Joins Exodus at Comic-Con After Party
[link]
Kirk hosted the Fear FestEvil After Party on July 25th and played with his former band Exodus. He performed Exodus song
Piranha
and Blue Oyster Cult's "Godzilla" with the band. Kirk then
spoke to RollingStone
about the show.
07/30/14 Robert's Mass Mental Project
[link]
Robert is resurrecting his
Mass Mental
project for a couple special appearances: August 26 at the Whisky A Go-Go in West Hollywood, CA, and September 6 in Markneukirchen at Warwick Open Day 2014. Tickets for the CA show can be purchased at
TicketWeb
.
07/30/14 New ESP Ride The Lightning Model
[link]
ESP Guitar has released a new guitar to celebrate the 30th anniversary of
Ride The Lightning
The limited edition model features artwork from the album - see it
here
.
07/30/14 Metallica Record SportsCenter Commercial
[link]
Metallica recorded a hilarious commercial for ESPN's SportsCenter which you can see
here
. Also, see the bloopers
here
.
07/30/14 Robert Supports Miles Davis Film
[link]
Robert recorded a
video message
to support the
Indiegogo campaign
to fund the tribute movie to Miles Davis entitled
Miles Ahead
.
Thanks to
Blabbermouth
for the heads up.
07/30/14 Random Interviews
[link]
07/30/14 Metallica Rock Glastonbury
[link]
Well aware of the petition
petition
to ban Metallica from Glastonbury, Metallica had a response ready - a response only Metallica could pull off.
Part way through Metallica's traditional opening video of a scene from
The Good, The Bad, and The Ugly
, fans were treated to
this short film
by Julien Temple. It's an incredible, classy, and hilarious statement.
Not to let the fun stop there, the concert
t-shirts
had newspaper clippings with negative stories about Metallica playing Glastonbury covering the back.
Fun and games aside, Metallica dominated the festival as usual, and by all reports, won over the immense crowd. Be sure to see the
recap
by Steffan Chirazi and the
story at Loudwire
.
07/30/14 Lords of Summer - First Pass Version
[link]
Metallica released a new version of Lords of Summer, called the "First Pass Version" on iTunes worldwide to celebrate the first day of summer. They note, "Those of you with astute ears will notice some minor differences from the version we streamed on YouTube and released on LiveMetallica.com... it's still a work in progress, but we wanted to share it with you as it stands today... it most probably will change again!" You can download it
here
.
07/30/14 World Premiere of Frayed Ends of Sanity
[link]
Metallica played
Frayed Ends of Sanity
for the first time
ever
in Helsinki in May. It's hard to describe the excitement of the band and the crowd. If there was ever a show you were going to buy from
LiveMetallica.com
, this would be it!
07/30/14 Black Album Hits 16 Million
[link]
Metallica's self-titled album, aka The Black Album, has become the first album to ever sell 16 million albums since SoundScan started tracking sales in 1991! Congratulations to the guys! See the story over at
Billboard.com
.
07/30/14 Hetfield to Narrate The Hunt
[link]
James will narrate the History Channel's new docu-series
The Hunt
. The series will chronicle the hunting of brown bears on the island of Kodiak in Alaska across eight episodes.
---
© 1997 - present Phil Dibowitz
Please read our Copyright Info
---