NEWS ROOM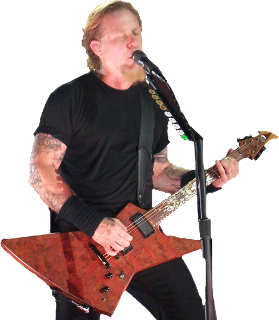 The News Room section of IPOM is where you will find the latest news about the band and the members themselves. We work very hard to bring you the all news as it happens, so please give credit if you use these stories. All news stories prior to this month can be found via the News Search. If you have questions, comments, or news stories, send them in.
07/30/14 World Premiere of Frayed Ends of Sanity
[link]
Metallica played
Frayed Ends of Sanity
for the first time
ever
in Helsinki in May. It's hard to describe the excitement of the band and the crowd. If there was ever a show you were going to buy from
LiveMetallica.com
, this would be it!
07/30/14 Black Album Hits 16 Million
[link]
Metallica's self-titled album, aka The Black Album, has become the first album to ever sell 16 million albums since SoundScan started tracking sales in 1991! Congratulations to the guys! See the story over at
Billboard.com
.
07/30/14 Hetfield to Narrate The Hunt
[link]
James will narrate the History Channel's new docu-series
The Hunt
. The series will chronicle the hunting of brown bears on the island of Kodiak in Alaska across eight episodes.
07/30/14 Hetfield Rocks Acoustic-4-A-Cure
[link]
Hetfield and Hagar got together to create and co-headline the first-annual Acoustic-4-A-Cure concert. The event benefits the Pediatric Cancer Program at UCSF Benioff Children's Hospital.
The event was very unique. The night had a very casual feel to it with each artist chatting with the audience a lot and joking with other artists. There were tons of collaborations among the various artists performing that night.
James played a 4-song set of
Nothing Else Matters
,
Until It Sleeps
, The Beatles
In My Life
and a mash-up of Bob Seger's
Turn The Page
and Green Day's
Boulevard of Broken Dreams
. Green Day's Billie Joe Armstrong and Joe Satriani joined Hetfield for that last song. Be sure to check out the videos and story over at
HenneMusic
.
07/30/14 Hammett's Daisy Bell
[link]
Kirk released a video of his version of
Daisy Bell
which is part of a new limited-edition charity album release
The Gay Ninties Old Tyme Music: Daisy Bell
. The album has various covers of the song which was popularized in
2001: A Space Odyssey
. Check out the video
here
. Read more about it at
HenneMusic.com
.
07/30/14 Metallica Night At Giants Game
[link]
Metallica once again rocked the national anthem at the Metallica Night at AT&T park, this time in white guitars instead of black. In addition to that, Lars threw the opening pitch again, and they added to the festivities with James announcing the starting lineup. Check out the
Rolling Stone
coverage. And don't forget LiveMetallica.com is offering a download of the national anthem performance
for free
!
07/30/14 James in Guitar Center Commercial
[link]
James stars in a new commercial for Guitar Center. The
commercial
(video) is 30 seconds and is cut from a larger 13-minute
video
.
Thanks to
Blabbermouth
.
07/30/14 MusicCares MAP Fund Benefit Report
[link]
Metallica covered Rare Earth (
I Just Want To Celebrate
), Deep Purple (
When A Blind Man Cries
), The Beatles (
In My Life
), and Ozzy Osbourne (
Diary of a Madman
) in their 4-song set at the MusiCares MAP Fund benefit. All four songs were played on acoustic instruments. Loudwire has
tons of pictures
from the event and you can download whole show at
LiveMetallica.com
.
07/30/14 Rob Zombie Covers Sandman
[link]
Rob Zombie recently covered
Enter Sandman
- check out the video
here
. See the story at
RollingStone
.
07/30/14 Lars And Gammel Dansk
[link]
Along with his recent Carlsberg Lars bottles, Lars also teamed up with Gammel Dansk, another Danish alcoholic beverage to start in a campaign titled "Not Like The Others." He's in commercials as well as being part of a jury for contest. You can see that video
here
(Danish only).
07/30/14 Limited Edition Carlsberg Lars Bottle
[link]
Lars is part of a Carlsberg ad campaign called "Stand Out Collection." Six people were chosen by the Danish brewer to design a special bottle. For his, Lars chose a photo take by Ross Halfin at a Metallica show in May 2012 at the Stade de France in Paris. Carlsberg and Lars also released a
video
(Danish with English subtitles).
07/30/14 Hetfield's Black Perl Wins Car of the Year
[link]
James' "Black Pearl" won car of the year at the Goodguys Rod & Custom Association. The car is built from scratch based on designs from Hetfield himself. The entire car is custom. The body is custom built on a modified 1948 Jaguar saloon chassis with a 375 horsepower Ford V8 engine. You can check out video and get more details at
AutoEvolution.com
.
07/30/14 Kirk and Robert to Keynote Surf Summit 17
[link]
Kirk and Robert were
keynote speakers
at this year's
Surf Summit 17
in May at the Melia Cabo Real resort in Cabu San Lucas, Mexico.
07/30/14 Last Two Metallica By Request Shows Announced
[link]
Metallica added July 13th Istanbul, Turkey and August 9 in Montreal, Canada to their By Request tour.
07/30/14 Free Metallica Show MP3s
[link]
As part of the anniversary of
Master of Puppets
, Metallica has made MP3s of their 1986 concert at The Hammersmith Odeon in London available for free. You can download the whole show at
LiveMetallica.com
.
07/30/14 Jaco Documenteray Named Official Film of Record Store D
[link]
Robert Trujillo's documentary about the late bass genius Jaco Pastorius, entitled "Jaco" was the
official film
of Record Store Day 2014.
07/30/14 Pinball By Request Results
[link]
You may remember a few months ago Metallica and Stern Pinball ran a vote for what two additional songs would get added to Metallica Pinball (via upgrade), and voting was closed with
Ride The Lightning
and
Blackened
winning.
04/13/14 Heartbleed and IPOM Security
[link]
Many of you have heard of
heartbleed
, a vulnerability in SSL, the technology used across the internet to send data securely such as credit card numbers and passwords. IPOM used the affected SSL software (OpenSSL), to protect users logging into the site so your password would always be safe.
We take security very seriously here at IPOM. Our software was updated Tuesday, the same day the vulnerability was announced and updates were available. However, to be truly safe, all keys need to be regenerated, and it took a few days working with our Certificate Authority to get new certificates. As of Thursday evening all new keys and certificates were deployed. If you have an account with IPOM for a
Personal Tour Report
, we highly recommend you
change your password
.
While re-visiting security, we also decided to enforce a higher quality of encryption on the secure parts of the site in order to better protect users. Unfortunately this means we had to drop support for IE 6. We officially
stopped supporting IE6
quite a while ago, but it mostly meant things might not look right for IE6 users; now they will be unable to log in. While we work hard to support as many platforms and browsers as possible, IE6 is nearly 13 years old and is no longer supported by Microsoft. We feel that lowering security for the larger internet is not worth supporting IE6. With Windows XP no longer being supported by Microsoft either, we will drop support for IE7 and IE8 before 2015.
If you want to learn more about heartbleed and how you can protect yourself, you can see a
write-up
from your webmaster, or two other user-friendly guides
here
and
here
.
03/31/14 Robert To Do Record Store Day Meet And Greet
[link]
Robert will be doing a Meet and Greet on Record Store Day (4/19) at The Sound Garden record store in Baltimore! At 4pm he will be there with his wife for the meet and greet and at 6pm, Trujillo will join jazz bass legend Jaco Pastorius' sons John and Felix at Vale Tudo for a couple hours to spin R&B and jazz records from Jaco's personal record collection. Watch
CDJoint.com
for details.
Thanks to Brad Dier for the heads up!
03/24/14 Metallica's Dio Tribute
[link]
Rolling Stone has premiered Metallica's Dio Tribute! Read the article and check out the amazing song
here
.
---
© 1997 - present Phil Dibowitz
Please read our Copyright Info
---