NEWS ROOM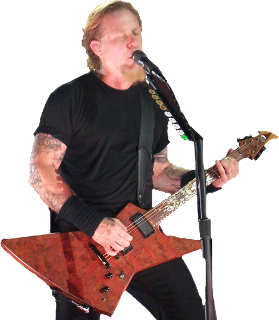 The News Room section of IPOM is where you will find the latest news about the band and the members themselves. We work very hard to bring you the all news as it happens, so please give credit if you use these stories. All news stories prior to this month can be found via the News Search. If you have questions, comments, or news stories, send them in.
Displaying stories 0 - 20
[
Next 20
]
11/05/14 Summer Tour Dates
[link]
Metallica is already gearing up for their next summer vacation in Europe! They've announced the first three tour dates:
May 29-31 Nuerburg, Germany at Der Ring - Gruene Hoelle Rock
May 29-31 Munich, Germany at Rockavaria Festival
June 4-6 Vienne, Austria at Rock In Vienna
Tickets go on sale tomorrow, November 6th at 9am in Vienna, and 10am for the German shows. Find Vienna tickets at
Ticketmaster.at
and tickets for the German shows at
Ticketmaster.de
.
More shows to come, apparently.
10/30/14 Wanted: KEA and RTL stuff
[link]
Metallica are
asking for
any audio, video, or stills from the
Kill 'Em All
or
Ride The Lightning
era. Anything at all no matter the quality! They are gathering things for the re-mastered re-issues of the two albums to be released in 2015!
10/29/14 A Week On Craig Ferguson
[link]
Metallica
will be the musical guests
on The Late Late Show With Craig Ferguson for the whole week of November 17th! All five performances plus the interview will take place on Friday, November 7th - and MetClub members should log into
Metallica.com
to find out how they can be guests for the taping!
10/21/14 Metallica To Play Blizzcon
[link]
Metallica has
announced
they will be a special guest at
BlizzCon
- the convention around Blizzard Entertainment (the company behind such huge games as Warcraft, Diablo, and StarCraft). Metallica will close out the event performing on the evening of November 8th at the convention center in Anaheim, CA.
10/07/14 Concert For Valor
[link]
Metallica.com
reports the band will be participating in a first-of-its-kind concert honoring US veterans and their families on the National Mall in Washington DC this Veteran's Day, November 11, 2014. The event will air on all HBO channels with an open signal allowing non-subscribers to view this special concert. The three-hour long concert will feature acts such as Bruce Springsteen, Eminem, Dave Grohl, Rihanna, Jamie Foxx, Carrie Underwood and others. The concert will serve as a fundraiser supporting a number of veteran's service organizations. For more information see
TheConcertForValor.com
.
09/26/14 Metallica To Headline Rock In Rio - Las Vegas
[link]
Rock In Rio is coming to Las Vegas and Metallica will be there! The concert will cover two weekends and Metallica will headline the first weekend, May 8-9, 2015. The event will take place on the World Stage at the MGM Resorts Festival Grounds. Which night they will play that weekend has not yet been announced. Tickets are available for pre-order via
RockInRio.com
.
09/26/14 SKOM 10 Year Anniversary
[link]
On November 24, 2014, Metallica will be re-releasing
Some Kind of Monster
to commemorate it's 10th anniversary. The film will be available digitally and via Video On Demand for the first time. There will also be two-disk Blu-Ray and DVD sets.
All releases will include a 25-minute follow-up piece entitled
Metallica: This Monster Lives
which was filmed at the Toronto International Film Festival in 2013. It includes interview footage with the band, directors Joe Berlinger and Bruce Sinofsky and looks at the decade since the original release of the film.
09/26/14 Lords Of Summer On Vinyl
[link]
To celebrate Record Store Day, Metallica will be releasing
Lords of Summer
on vinyl on November 28th. The limited edition 12-inch vinyl will include the "First Pass" (studio) version on side A as well as live version from Rock In Rome Sonisphere on July 1, 2014. Side B will feature a laser etching of the "M" logo.
The release will only be available at independent record stores and of course
Metallica.com
. For a list of stores participating in Record Store Day, please visit
RecordStoreDay.com
.
09/17/14 Ten Years of LiveMetallica.com
[link]
Metallica has offered virtually every show they've played for the past 10 years through
LiveMetallica.com
. This was ground-breaking when they launched it, and even today Metallica stands as one of the only bands doing anything like it.
To celebrate the 10th anniversary, every show from 2014 is now available on CD - a common request from fans! They've started with the first 3 shows, and they will add an additional 3 shows every Monday. CDs will be priced at $19.81 per show - or you can pre-order a box set with all 27 shows for $417.
In addition, 4 shows will be me made available in vinyl... which four will be up to you! Vote for which shows you want available on vinyl
here
and the top 4 will be pressed on vinyl in early 2015. Hurry, voting closes September 26!
09/17/14 Exodus Release Track with Hammett
[link]
Loudwire
reports
that Exodus released a new track entitled
Salt the Wound
from their upcoming 10th studio album,
Blood In, Blood Out
. The track features Hammett (who, you'll recall, was a founding member of Exodus)! You can check out the track
on YouTube
.
09/08/14 Artists In Residence
[link]
Metallica has been asked to take part of this year's Mill Valley Film Festival as Artists in Residence. Each band member will be hosting a film they've selected that is significant to them personally. The member will be on hand to introduce the film and take questions, and in some cases will be joined by the filmmakers.
On Friday, October 3 at 10pm Kirk presents
Dracula vs. Frankenstein
at the Rafael Theater in San Rafael, CA.
On Monday, October 6th at 6pm Robert will offer a sneak peek at his passion project,
Jaco
the new documentary about the story of legendary bassist Jaco Pastorius. The showing is at the Sequoia in Mill Valley, CA.
On Tuesday October 7 at 7pm Lars will present unreleased
Whiplash
, and indie feature about an aspiring drummer and his ruthless teacher. The showing is at the Cinema Corte Madera in Corte Madera, CA. The film won multiple awards at Sundance this year. Following the film, directory and screenwriter Damien Chazelle will join Lars for a conversation and Q&A.
On October 8 at 7pm James will be hosting western classic
The Good, the Bad, and the Ugly
, show in all its restored glory. You'll recognize this film as the origin of the
Ecstasy of Gold
music that starts off nearly every Metallica show. The showing will be at Cinema Corte Madera in Corte Madera, CA.
But of course, that's not all. Following the screening of
Jaco
, Robert will host a musical celebration honoring Jaco Pastorius at the Sweetwater Music Hall in Mill Valley, CA. The event is a benefit for the California Film Institute. Performers will include MAERIC with Mary Pastorius, David Pastorius & Eric Young; Kirk Hammett & Robert Trujillo; Rodrigo y Gabriela; Stephen Perkins of Jane's Addiction; L. Shenkar; and others.
Information on tickets to movie showings can be found at
MVFF.com
.
Tickets for the concert are $150 and are available through
TicketFly
. Film Festival tickets are not valid for the show. Metallica Club members should log into
Metallica.com
for information on tickets.
09/03/14 Metallica in Guinness Book of World Records
[link]
Metallica has achieved a world record for being the only band to play all seven continents in one year! The record will appear in the 2015 edition of the book. Check the
Metallica.com story
for details and pictures!
08/25/14 Music Agents Against NFL's Pay-To-Play Half-Time Plan
[link]
The NFL is reportedly asking artists to submit bids to pay to appear at Half Time at next year's Super Bowl. Various sources predict major artists won't go for it. Dennis Arfa (manager agent for Metallica, Billy Joel, and Rush) said "If I was a young band, and I had a billionaire backer, I'd buy my way to the Super Bowl - everybody would know me after the Super Bowl. Is Paul McCartney going to pay? I doubt it." Read more at
Rolling Stone
.
08/25/14 Hetfield's Black Pearl Featured at Wheels of Time
[link]
This past weekend was the 36th annual
Wheels of Time Rod and Custom Jamboree in Lehigh Valley
. The event features an estimated 1500 street rods and custom cars. This year's special guest was Rick Dore the man behind Hetfield's
Black Pearl
who brought said creation with him. The vehicle won every category in its class at the 2014 Grand National Roadster Show.
08/25/14 Trujillo Joins Rodrigo Y Gabriela On Stage
[link]
Trujillo once again joined Rodrigo Y Gabriela on stage - this time on August 17th at the Red Rocks Amphitheater in Morrison, CO. to perform a medley of Metallica covers. You can check out fan-filmed footage:
part 1
and
part 2
.
Thanks to
Blabbermouth
.
08/25/14 Two Classic Rock Roll of Honour Nominations
[link]
The Classic Rock Roll Of Honour is one of music's most prestigious events in the UK and is coming state-side this year for its 10th anniversary. Taking place at The Avalon in Hollywood, CA, it will features Sammy Hagar as the master of ceremonies. Metallica has been nominated for
Band of the Year
and
Film of the Year
. Fans can vote and see all of the nominations at
ClassicRockMagazine.com/Awards
.
08/25/14 Hammett and Randall Make New HK103 Amp
[link]
Kirk Hammett has worked with Randall for years making a variety of signature series (KH120RHS head, KH412 cab, KH75 combo, KH15 practice amp, KH3 preamp), and are now coming out with the KH103 amp. After 3 years of meticulous prototyping and being on the road with Hammett for battle-testing, it is definitely worth of carrying the Hammett name. The 120-watt three-channel all-tube amp has the sound Hammett has "been chasing for a long time." It will be released this fall with a $3,749.99 price tag. You can find more info at
Guitar World
.
08/25/14 Lloyd Grant Plays Lights and Seek
[link]
Lloyd Grant who performed on the original Metallica demos took the stage with Night Demon on August 4th in Los Angeles to perform
Hit The Lights
and
Seek And Destroy
. Check out video
here
.
Thanks to
Blabbermouth
.
08/25/14 Fear FestEvil After Party: Hammett and Trujillo Videos
[link]
Video from various Kirk and Rob appearances at the Fear FestEvil After Party at Comic-Con can be seen here:
Thanks to
Blabbermouth
.
07/31/14 Metallica Wants Your Puppets Stories
[link]
Metallica has teamed up with Matt Taylor - author of the much respected account of Steven Spielberg's escapades as he was making
Jaws
- on a book detailing the story of
Master of Puppets
and the tour that followed. In addition to all of the interviews Matt has done with the band and crew and friends, they're looking for stuff from fans: old pictures, stories of meeting the band, etc. They stress they want
anything
: " No photographs, anecdotes, or stories are too insignificant." See the details for submission at
Metallica.com
.
Displaying stories 0 - 20
[
Next 20
]
---
© 1997 - present Phil Dibowitz
Please read our Copyright Info
---