NEWS ROOM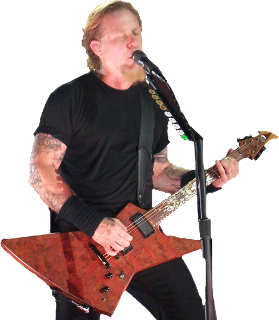 The News Room section of IPOM is where you will find the latest news about the band and the members themselves. We work very hard to bring you the all news as it happens, so please give credit if you use these stories. All news stories prior to this month can be found via the News Search. If you have questions, comments, or news stories, send them in.
Displaying stories 0 - 20
[
Next 20
]
02/15/14 Metallica On Dio Tribute
[link]
Metallica recorded a medley of
A Light In The Black
,
Tarot Woman
,
Stargazer
, and
Kill The King
the band calls
Ronnie Rising Medley
for the upcoming Ronnie James Dio tribute album. The album will be released April 1st and you can find more details out
here
.
02/15/14 Lars does an AMA
[link]
Lars did a Reddit Ask Me Anything - check it out at
Reddit
!
02/15/14 Grammy Wrap-Up
[link]
Metallica's performance with Lang Lang at the 2014 Grammy's was incredible. You can see a unofficial copy of the performance
here
. Metallica has posted video of the rehearsals
on YouTube
, and you can purchase the recording done at rehearsals on
iTunes
.
02/15/14 2014 MetClub Membership Package
[link]
The 2014 MetClub t-shirt has been announced! If you're a member, check it out
at Metallica.com
.
02/15/14 Enter Sandman Used In Motorcycle Commercial
[link]
Metallica's
Enter Sandman
was used in the latest teaser for the 2014 MV Agusta Dragster 800. Given how rarely Metallica's music gets permitted for these sorts of things, it's worth
checking out
.
Thanks to
Blabbermouth
for the heads up.
02/15/14 Through The Never Movie Vest Missing
[link]
Metallica posted...
Luggage at San Francisco Airport containing the vest worn by James Hetfield during Metallica Through The Never movie has gone missing. This piece of movie memorabilia is still unaccounted for and any help finding this piece of heavy metal history will come with a no questions asked reward and gratitude from the band if returned. If you have any information regarding the missing vest, please email webmaster@metclub.com
02/15/14 Antactica Wrap-up
[link]
As you know, Metallica played a show in Antarctica on December 8. As expected, Metallica has posted photos, video, and a great review from wordsmith Steffan Chirazi at
Metallica.com
.
02/15/14 No Orion in 2014
[link]
According to C3 Promoters, Metallica will be
taking a year off
from its
Orion Music + More
festival due to their touring in Europe. It may return in 2015, a C3 spokeswoman said.
02/15/14 Garage Inc. EPK
[link]
Metallica posted a rare 50-minute EPK (Electronic Press Kit) from Garage Inc. on
YouTube
. The EPK was previously released on a couple of
Whiskey in the Jar
singles back in 1999.
02/15/14 Metallica Night Returns To AT&T Park
[link]
The San Francisco Giants will be doing a second annual Metallica Night at AT&T Park! That night the Giants will take the field against the Miami Marlins, and the band will kick it off once again with the National Anthem and the first pitch, with the rest of the night having other various Metallica-related fun. If you don't already have tickets, check out
the details
.
02/15/14 Lars Writes Foreword For Cookbook
[link]
Lars wrote a foreward to "A Work in Progress: Journal, Recipes And Snapshots," a three-book set by Rene Redzepi, head chef of NOMA restaurant in Copenhagen, Denmark. Redzepi asked Ulrich to write an essay on creativity as his foreword. You can read an excerpt of the rather along foreword
Phaidon.com
.
02/15/14 Little Kids Rock
[link]
James was at the Rockin' the Bay Benefit concert on November 9, 2013. The event was a benefit for "Little Kids Rock," a national education movement providing public school students with access to music classes and free training for teachers. The event took place at Facebook Headquarters in Menlo Park, CA.
Hetfield was recognized for his support and contributions to the organization and received the inaugural "Living' The Dream Award," which was created to honor Facebook Chef Josef Desimone who spearheaded the benefit and was a huge Metallica fan.
You can check out video of James performing with the kids in
two
parts
.
02/15/14 Bieber and Metallica
[link]
A video of Justin Bieber signing the solo to Metallica's Fade To Black
made its way around the internet
. In response the band was asked how they felt about Bieber and they expressed their
respect for him
.
02/15/14 RIP Lou Reed
[link]
Lou Reed passed away on October 27th (yeah, we're a little late). To commemorate him, here's a
great interview
The Guardian did with Lars on Reed. Everyone here at IPOM wishes his friends and family our condolences.
01/07/14 Grammy Performance
[link]
Metallica will be performing at the 56th Annual Grammy Awards on Sunday January 26th. They will perform with renowned concert pianist Long Long.
In addition, the
Through The Never
soundtrack has been nominated for a
Best Recording Package
.
Check your local listings for times - it airs on CBS. Visit
Grammy.com
for more information.
12/13/13 Metallica By Request - The Rest
[link]
13 additioanl European "Metallica By Request" dates have been announced as well as 7 South American dates earlier in 2014. Check them all out in the
Metallica By Request
section of our Tour Archive.
11/26/13 Metallica By Request
[link]
Metallica are heading back into the studio, and of course that means they will take a summer vacation doing some festivals in Europe - 2 short trips - but this time with a new twist. They will be letting the ticket holders vote on what songs they will play!
Metallica has only pre-chosen one slot in the setlist: they'll play a new song! The other 17 slots in the setlists will be chosen by those attending the show.
More details and more shows will be announced soon, but the first three are: Sonisphere on June 4, 2014 at Imtech Arena in Hamburg, Germany (tickets on sale November 29 at 11:00 AM local time), Rock Am Ring on June 5-8, 2014 in Nurburgring, Germany (tickets on sale November 27 at 9:00 AM local time) and Rock Im Park on June 6-9, 2014 in Nurnberg, Germany (tickets on sale November 27 at 9:00 AM local time).
10/27/13 Metallica To Sell Unused Riffs?
[link]
Lars make an off-handed comment (so take it with a grain of salt) in an interview with Classic Rock Magazine that they've considered selling their unused riffs. Read the interview
at ClassicRockMagazine.com
.
10/27/13 Trujillo Debuts Animated Short
[link]
Robert Trujillo debuted his Metallica-centered animated short,
'Tallica Parking Lot
at Fantastic Fest in Austin. A collaboration with
Titmouse Animation
includes animations panned through 2D and 3D views of the fans that pre-game at Metallica shows as well as cameos from
South Park
,
Beavis & Butt-head
, and
Lemmy
all put to an original soundtrack written by Trujillo with help from Hetfield. The animated short will be available on the DVD and Blu-ray releases of
Through The Never
.
Thanks to
Blabbermouth
for the heads up.
10/27/13 Kirk Hammett's Fear FestEvil
[link]
Kirk Hammett will be hosting his own horror convention,
Fear FestEvil
. The event will have live music, panel guests, signings, tours of Kirk's "crypt" and more. Tickets are on sale now, check it out!
Displaying stories 0 - 20
[
Next 20
]
---
© 1997 - present Phil Dibowitz
Please read our Copyright Info
---