NEWS ROOM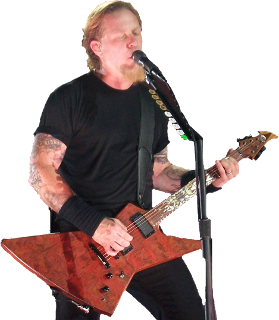 The News Room section of IPOM is where you will find the latest news about the band and the members themselves. We work very hard to bring you the all news as it happens, so please give credit if you use these stories. All news stories prior to this month can be found via the News Search. If you have questions, comments, or news stories, send them in.
12/23/15 Freeze 'Em All
[link]
Adam Dubin put together a 20-minute documentary about Metallica's 2013 trip to Antarctica. Metallica club members can download or stream it at
Metallica.com
!
12/23/15 Kirk on MetalSucks Podcast
[link]
Kirk
appeared on the MetalSucks podcast
to talk about his new Ghoul Screamer guitar pedal, his new company KHDK (which is behind the pedal), work-life balance and more.
11/23/15 Fourth Annual Metallica/Giants Night!
[link]
Metallica has been invited back for a fourth annual Metallica/Giants night at AT&T Park on May 6, 2016. As always special event tickets entitle fans to both the game and a Metallica/Giants goodie to be announced later. Tickets go onsale on Orange and Black Friday, November 27, 2016 at 8am PST. Metallica Fan Club pre-sale is Wednesday November 25th at 10am PST.
11/22/15 Metallica Pay Tribute to Beamer
[link]
Metallica recorded a special message which was played at Saturday's VT game - head coach Frank Beamer's last home game. Beamer has been entering the stadium to Enter Sandman for years, and this is his last season before retiring. Check out Metallica's video
here
.
11/22/15 Rob and Flea on WTF
[link]
Robert Trujillio and RHCP's Flea were on the WTF Podcast talking about the new Jaco documentary. Check it out at
WTFPod.com
.
11/22/15 Load/Reload Retrospective
[link]
Jon Widerhorn at Loudwire has written a
retrospective
on Load and Reload. There's not much new information, but it's interesting trip down memory lane.
11/22/15 RIP Thomas Ayad
[link]
Thomas Ayad was Metallica's official "Project Manager" in France. Unfortunately he was one of the many who lost their life at the Bataclan theatre in the Paris terrorist attacks earlier this month. See Metallica's tribute to their friend and family member on
Facebook
.
11/22/15 Metallica Helps Fight for Metalocalypse
[link]
Metallica sent a letter (and a bunch of guitar picks) to Hulu asking them to pick up Metalocalypose to release the final season of the show. Check out their
Instagram pictures
of the letter.
11/22/15 Vanna cover "Fuel"
[link]
In October, Hardcore band Vanna released an EP of covers entitled "Alt" which included a cover of Metallica's Fuel. Check it out
here
. The release also includes covers of The Smashing Pumpkins, The Offspring, Marilyn Manson, and Korn. Check out more about the release over at
MetalSucks.net
.
11/22/15 James and Lars Filmed Cameo for Showtime's
[link]
PageSix
reports
James and Lars filmed a cameo for Showtime's new show "Billions" which premieres Jan 17th. In the show, "Homeland" star Damian Lewis plays hedge fund titan Bobby "Axe" Axelrod. Axelrod's favorite band is Metallica and he heads to Quebec for a concert and goes back stage to meet the guys. Keep an eye out for the episode in 2016.
11/02/15 The Night Before... The Superbowl!
[link]
Metallica has been invited to hit the stage for year three of CBS Radio's "The Night Before" annual concert held the night before the Super Bowl. This year, Super Bowl 50's The Night Before Super will be held at AT&T Park in San Francisco on February 6, 2016.
Tickets go on sale this Friday, November 6th, at 10am PST via
Ticketmaster
. Fan Club members should sign into
Metallica.com
for info about the pre-sale beginning tomorrow, Tuesday November 3rd at 10am.
10/11/15 Better Mobile Experience
[link]
Today we've made some changes to the site that will help you use IPOM on mobile devices. It's a small start; it's not a full-fledged mobile site, but we think it makes checking on Metallica News or showing someone your Tour Report on the go a far better experience. As always, we welcome your feedback in the
Message Center
.
10/10/15 Facebook Login for IPOM!
[link]
We're very excited to launch Facebook login for IPOM! You can now login to IPOM using just your Facebook account without having any keep an IPOM password. Don't worry - it's not required, you can still have an IPOM account with a password.
If you already have a password and choose to login with Facebook, we'll associate your existing IPOM account with your Facebook account (by email address), and then you will be able to login
either
with a password or with Facebook - both will work. There will then be an option in settings to remove the password from your account if you don't want to keep track of your IPOM password.
In addition we've significantly cleaned up and improved much of the account signup, account login, and password reset process to be easier and look nicer.
We hope you enjoy!
09/28/15 Kirk Hammett's "Ghoul Screamer" Pedal For Halloween
[link]
On Halloween of this year, KHDK Elecronics will be releasing the Ghoul Screamer guitar pedal. Conceived of by Kirk Hammett and built by the company he co-founded along with David Karon (KHDK), the Ghoul Screamer adds onto controls provided by previous KHDK models. "In addition to the three standard controls (drive, tone, volume) five switches have been added. This significantly enhances the sound palette and – together with carefully selected and tested parts – elevates the Ghoul Screamer to the highest class of stage and studio gear." You can find more information at
KHDK Electronics
.
Thanks to
Blabbermouth
.
09/19/15 Update on the Morgan Harrington Case
[link]
There has been an update on the Morgan Harrington Case - the 20 year old Virginia Tech student who disappeared after a Metallica concert at the John Paul Jones Arena in Charlottesville, VA in 2009. Jesse Matthew who was charged with the murder of Hannah Graham, another VT student, has now also been charged with Harrington's murder. You can read the details at
CNN's story
and Metallica's summary at
Metallica.com
.
09/15/15 Metallica Beer!
[link]
To commemorate Wednesday's show which will be the first concert event in the new Centre Videotron, Metallica has teamed up with Budweiser to make a special Metallica-branded Budweiser can and case. Over 91,000 special Metallica cans of beer will be sold (presumably only) in the Quebec area and will be available in cases of 15 or 24. See the can and the case at
Journal de Quebec
.
09/07/15 New Tour Report Features
[link]
This weekend we've added some features to
Tour Report
! For starters it now knows the difference between shows you've seen and future shows - so if you put in the shows you plan to see on the upcoming tour, it'll accurately tell you how many shows you've seen vs. how many shows you're planning. In addition we've added a Facebook Share button to make it easy to show off your tour report to your friends. And finally for those of you who have done touring in the US, Tour Report will now breakdown your tour statistics by US state. We hope this makes your personal tour reports even more useful!
09/06/15 Account Migration Complete
[link]
As we
reported on Friday
, this morning we did an account migration for IPOM Members.
The migration is complete and was successful. As of now all members should use their email address as their login ID for IPOM. Usernames were used to populate the Handle field, and anyone with a conflict was emailed Friday night. Users can go ahead and update their handle in the members section.
We hope this will make using the site easier! Please let us know if you have any issues.
09/04/15 Changes to IPOM login
[link]
We are going to be simplifying the way IPOM login works in a few steps.
As of today, we've taken the first step: you can now use your email address as your login ID to IPOM. Username will still work for now, but you should get used to using your email address.
Since IPOM login was launched you've had an email, a username, and a name/handle. The username was used primarily for logging in, the name, if present was used for display (otherwise we used username), and email was used to contact you.
Having all three if these is needlessly confusing and redundant, so on
Monday September 7
we will be combining "username" and "name/handle" into a single "handle" which will
only
be used for display purposes. This will be however you want to be seen on the site (in your Tour Report, on the Message Center, etc.), and can be a real name, a nickname, a handle, etc. To log into the site, you will use the email address we have for you (plus whatever password you currently use on IPOM).
We are doing this for several reasons:
People often forget their username, but it's unlikely they will forget their email address.
Username and Name/Handle were the same for non-members, there is no need to make them different for members.
The site wasn't consistent on whether it showed your "name/handle" or "username" in various places, and this will clean all of that up.
For members who had both a username and a name/handle (the latter was optional for a while), your username will be kept as your handle (and your name/handle will be dropped). Anyone who has such a conflict will be emailed ahead of time. After the conversion you will be able to change your handle at any time. For anyone else, you should notice no change.
We hope this will make the site easier to use and understand.
09/04/15 Call of Ktulu Sale
[link]
Metallica have teamed up with artist Richey Beckett who has created an incredibly detailed rendition of Chtulu, the monster that inspired
The Call of Ktulu
. The art will be available on limited edition prints in two sizes and two colors to fan club members on
Metallica.com
on September 10 at 1PM Pacific Time. After one week any left over prints will be available to the general public. T-shirts with the art work will also be available. See
Metallica.com
for more information.
---
© 1997 - present Phil Dibowitz
Please read our Copyright Info
---