NEWS ROOM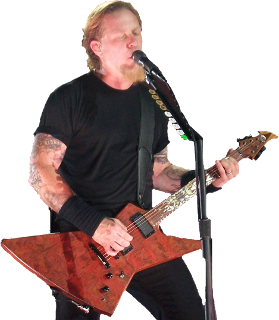 The News Room section of IPOM is where you will find the latest news about the band and the members themselves. We work very hard to bring you the all news as it happens, so please give credit if you use these stories. All news stories prior to this month can be found via the News Search. If you have questions, comments, or news stories, send them in.
08/25/16 Barneys Selling Metallica Shirts for $200
[link]
High-end fashion retailer Barney's
is now selling "made worn" heavy metal band t-shirts
for $175. They have Metallica, AC/DC, Motorhead, Guns N' Roses, Black Flag and more. They even have a fake metal hoodie for $1265. These shirts all remakes of pre-existing shirts and not worth the price at all.
08/25/16 KHDK Electronics Unveils 'Scuzz Box'
[link]
Kirk's KHDK Electronics has unveiled its latest guitar pedal entitled the
Scuzz Box
, a fuzz pedal. The pedal is a geranium-voiced fuzz pedal designed to provide truly musical fuzz. The pedal has two modes: Scuzz and Fuzz. The Fuzz "is a highly dynamic, articulate fuzz tone. Every note is meant to be heard and it cleans up beautifully with your guitar volume." The Scuzz "brings a dangerous, unique and biting sound. It is an unpredictable, ruckus velcro-type gated fuzz with a nasty, gnarly and buzzy tone with ripping textures. Thanks to a cleverly-used gating effect, the sustaining notes die quickly with virtually no residual noise." Check out everything about the new pedal at
KHDK Electronics
.
08/25/16 ESP Re-release Limited Edition KH-Nosferatu
[link]
You may remember last year with Kirk teamed up with ESP to make just
13 special limited edition Nosferatu themed guitars
. Well according to
MixDownMag
, ESP have released another 300 of them! There are still some available,
so hurry
!
08/25/16 Lars and Clinton
[link]
Lars took photos with presidential nominee Hillary Clinton backstage at Hamilton in July. See a photo of the two of them at the
NY Daily News
.
08/25/16 Lars Hosts "The Neon Demon" screening
[link]
In July Lars
hosted a screening
and Q&A of
The Neon Demon
with director Nicolas Winding Refn. The event was held at the Alamo Drafthouse in San Francisco.
08/25/16 Metallica and Brioni Team Up
[link]
Metallica has become the new face of Italian luxury menswear brand Brioni. Brioni is kicking off their first creative campaign under newly appointed creative director Justin O'Shea. The black and white photos were inspired by Queen's
Bohemian Rhapsody
and shot by photographer Zackery Michael. The band sports Bespoke Brioni suits and tuxedos as well as sunglasses from their new eyewear collection. Check out the photos at
Metallica.com
. They also posted some
humorous videos
promoting the new campaign.
08/25/16 Expanded Release Of No Life 'Til Leather Delayed
[link]
When Metallica re-released the
No Life 'Til Leather
demo on cassette for Record Store Day 2015, they said an expanded edition would arrive later on CD, vinyl, and in a collector's set. However, Lars
explained to Metal Forces
that due to legal reasons it didn't happen. While Lars is optimistic it may happen later, they decided to move onto the
Kill 'Em All
reissue instead of "getting bogged down in all the unpleasantries."
08/25/16 James Guests On New Heart Album
[link]
James makes a guest appearance on the title track of Heart's new album,
Beautiful Broken
. The track was originally a bonus track on the 2012 LP
Fanatic
. On this version, James provides harmonies and the occasional breakout. Metallica.com has a
story and the video
.
08/25/16 James Joins CoC On Stage
[link]
James joined Corrosion of Conformity on stage in Oakland in May for a jam on
Seven Days
! Check out Metallica.com's
story and photos
and some
fan shot footage
.
08/25/16 Metallica Uses Atomic 3000 LED Strobe
[link]
Rob Koenig, Metallica's lighting director, spoke to Live Design Online about doing lighting for Metallica and specifically in switching to the Martin By Harman Atomic 3000 LED fixtures. Check out the
whole article
!
08/25/16 Metallica Play at the Stanley Cup Finals Game 4
[link]
James and Kirk performed the National Anthem at Game 4 of the Stanley Cup Finals in June. See the story and video over at
Metallica.com
.
08/25/16 Doom Took Inspiration From Metallica and Others
[link]
With Doom 4 having recently released, Loudwire
took a look back
at the original Doom and the clear influences from Pantera Metallica and Slayer.
This video
shows the occurrences of
No Remorse
,
Call of Ktulu
, and
Master of Puppets
(the last one being the most undeniably obvious). Similar videos for Pantera and Slayer are at the article linked above.
08/25/16 Apocalyptica To Do 'Metallica' Album Anniversary Tour
[link]
This year marks the 20 year anniversary of Apocalyptica's
Plays Metallica By Four Cellos
album. To celebrate, the band
re-released
it remastered with three bonus tracks:
Battery
,
Nothing Else Matters
and
Seek & Destroy
. They also released a
video for Battery
. They will also begin a special European tour in February to promote the re-release.
08/25/16 Radio Dreams (w/Lars) Continues Film Festival Run
[link]
Radio Dreams
- a film about Kabul Dreams (a rock band from Afghanistan) trying to meet their heroes Metallica - which features Lars is been
making the rounds at film festivals
around the country. It was at Seattle International Film Festival and BAMcinemaFest, and is now expected on the worldwide festival circuit. Keep an eye out for a full US release.
08/25/16 Fed Finds Primates Love Metallica
[link]
A 2009 study recently surface which found that "most primates do not like popular Western music, with one exception – the heavy metal sounds of the rock band Metallica." See a summary on
The Telegraph
or read the
whole study
. We'll save you some time: Sound File 7 is the Metallica one (
Of Wolf And Man
).
08/25/16 Kirk and Rob Join Ocean Beach Cleanup
[link]
Kirk and Rob took part in a cleanup at Ocean Beach on May 5th as part of an event sponsored by the San Francisco Giants. You can check out photos at the Giants'
Twitter page
.
08/25/16 Kirk Joins Elton John On Stage In Vegas
[link]
Kirk joined Elton John on stage in Vegas in April. The two performed
Saturday Night's Alright For Fighting
. Kirk posted photos
on his Instagram page
.
08/25/16 Rob Gets in on 39th Annual Penny Pitch Charity
[link]
Rob Trujillo participated in this year's Penny Pitch to benefit St. Anthony's. The old pub game turned yearly charity event raises thousands for St. Anthony's Foundation. Read about it
KTVU
.
08/25/16 Mike Rowe Posts Embarassing Metallica Story
[link]
Mike Rowe (of
Dirty Jobs
recently ran into James Hetfield and mistook him for Lars. Read his embarrassing story
here
.
08/25/16 Metallica Share 1983 Performance of Whiplash
[link]
Metallica has
posted a video
of a 1983 performance of
Whiplash
from the Metro featuring a blistering bass solo by Cliff Burton!
---
© 1997 - present Phil Dibowitz
Please read our Copyright Info
---