NEWS ROOM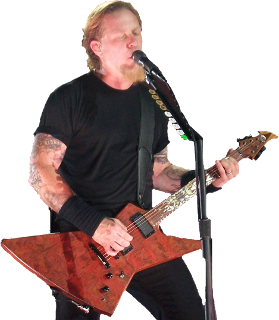 The News Room section of IPOM is where you will find the latest news about the band and the members themselves. We work very hard to bring you the all news as it happens, so please give credit if you use these stories. All news stories prior to this month can be found via the News Search. If you have questions, comments, or news stories, send them in.
Displaying stories 0 - 20
[
Next 20
]
04/02/19 More AU/NZ
[link]
Metallica
has announced
a second Melbourne show on October 24 and a second Auckland show on November 2.
03/26/19 A second S&M2 show!
[link]
In response to the demand for the recently announced S&M
2
show and to make up for the many snafus in the presale process, Metallica has
announced
that they will play a second S&M
2
show - for Fifth Members only! The show will be on Sunday September 8, 2019. The band is working on how to ensure the most fair system possible for allowing fans the best chance to get tickets and details will be announced soon.
03/18/19 S&M2
[link]
To celebrate the 20th anniversary of S&M as well as the opening of the Chase Center in San Francisco, Metallica will once again team up with the San Francisco Symphony Orchestra for a special concert at the grand opening of the Chase Center on September 6, 2019. The show is being dubbed S&M
2
! For more details on the show and ticket sales, see
Metallica.com
.
03/08/19 Australia and New Zealand Tour
[link]
Metallica has
announced
they will be bringing the Stadium version of the WorldWired tour to Australia and New Zealand in October! Check out the link for details on tickets.
09/24/18 2019 European Summer Vacation
[link]
Metallica has announced their European summer vacation for 2019. They'll be bringing their stadium tour that was in the US in 2017 to Europe starting in May! See our
Tour Archive
for the dates and see
Metallica.com
for information on tickets and experience packages. Note that tickets go on sale tomorrow!
03/11/17 New Picks Section
[link]
We're very excited to announce our new
Picks
section! This is not only a place where you can see all of Metallica's guitar picks, but also a place were you can track your own collection, and - like Tour Reports - show off a report to your friends, or to other collectors to help you trade for your missing picks.
We've been working on this for a while and we're thrilled to hear what you all think of it! Feel free to let us know on the
Message Center
!
02/26/17 Catch Up; Canceled Shows
[link]
As mentioned
below
, the last few months have been so crazy with shows on various corners we haven't been keeping up on the news as well as we would like. In addition to catching up, we've also added a new feature to
Tour Report
: it now correctly handles canceled shows. It'll display them as canceled and not count them in your totals. See you on tour!
02/26/17 All Within My Hands Foundation
[link]
Metallica has launced the
All Within My Hands Foundation
to help give back to the communities that have supported them. All funds raised will be donated to a cross-section of national, local and Bay Area charities that the individual band members support, along with continuing to donate to music education programs and food banks. They are partnering with Crowdrise and together they take donations when you purchase tickets to the upcoming gigs that enter you to win cool prices each night. One lucky doner will travel with us to a show along the way. Read more about it at
CrowdRisec.om/metallicamusic
.
02/26/17 North American Tour Announced
[link]
Metallica announced their North American leg of the WorldWired tour last week. You can find the dates in our
Tour Archive
and find ticket information at
Metallica.com
.
02/26/17 Fifth Annual Metallica Night With SF Giants
[link]
Metallica announced the fifth annual Metallica Night with the San Francisco Giants. The event will take place on Monday August 7, 2017 when the Giants face off against the World Champion Chicago Cubs. As with previous years the band will play the National Anthem and Lars will throw the first pitch and the boys will be on hand for various festivities between innings. For more information see
here
.
02/26/17 Metallica Perform with Lady Gaga at Grammys
[link]
Metallica performed
Moth Into Flame
with Lady Gaga at the Grammys. While the collaboration was well suited, the Grammys hit a few technical glitches in both this and other performances. The teleprompter led to an introduction that didn't mention Metallica and James' mic was out for the first verse. Nonetheless both Metallica and Gaga stayed profession and delivered an incredible performance. You can see the performance
on YouTube
.
In the press, Lars
spoke to Rolling Stone
about how Lady Gaga is "The Quintessential Fifth Member of This Band," and ABC had an
exclusive story
with quotes from many members of the band.
02/26/17 Metallica and Lang Lang
[link]
Metallica performed with concert pianist Lang Lang in Beijing - you can see the stellar rendition of
One
here
.
02/26/17 Kirk Selling Sea Cliff House
[link]
Kirk is selling his Sea Cliff home in San Francisco. Since
this article
the price has dropped to $14M.
02/26/17 Metallica Rocks Out to Sandman In Grocery Store
[link]
Checkout Metallica rocking out to
Enter Sandman
in a grocery store
here
.
02/26/17 Kirk Unleashes on Trump
[link]
Back in December Kirk has mentioned he'd be more vocal and active if Trump implemented some of the changes he had talked about. And on January 20th, he did just that in a Twitter thread you can read in order on
Metal Injection
.
02/26/17 Grammy Nomination
[link]
We reported that Metallica was set to perform at the 59th annual grammy awards but somehow missed mentioning they were nominated for
Best Rock Song
for
Hardwired
. They ultimately lost to David Bowie's
Blackstar
, but the nomination is celebration worth itself.
02/26/17 Misc Press
[link]
With the new album and shows in random corners of the world in the last few months, we've not been as ontop of news as we like to be. We've managed to post most of the big stories, but the smaller stuff has fallen through the cracks. We're starting our catch-up tonight with some highlights of various press the band has done over the last few months.
02/05/17 Metallica at Hollywood Paladium
[link]
After Metallica performs at the Grammy Awards on February 12th they will head over to the Hollywood Palladium to hit the stage one more that night. This time as part of Citi's Sound Vault music series. They will play the final night of the five show run celebrating Grammy week. Fifth Members can enter to win tickets at
Metallica.com
; the drawing will be done on February 9th.
01/17/17 Metallica To Perform At The Grammy Awards
[link]
Metallica has been invited to perform at the 59th annual Grammy Awards telecast on Sunday February 12, 2017. Metallica teases they, "have something very unique and special planned for this celebratory night, so tune in to watch on CBS-TV." So, be sure not to miss it!
12/08/16 More Worldwired Dates
[link]
Metallica has announced they will play a show in Los Angeles next Thursday, Decenber 15, 2016 at The Fonda Theater. Tickets go on sale tomorrow, December 9th. All proceeds go to the Los Angeles Regional Foodbank. You can find details at
Metallica's announcement
.
Then on January 15, 2017 the will play at the Mercedes-Benz Arena in Shanghai, China. Tickets go on sale on December 13th. Details at
Metallica.com
.
Displaying stories 0 - 20
[
Next 20
]
---
© 1997 - present Phil Dibowitz
Please read our Copyright Info
---